Top 5 Best Keyword Research Techniques For SEO
Last Updated on February 18, 2023 by admin
Top 5 Best Keyword Research Techniques For SEO
Hey, Mates, I hope you are all doing well. Today I am going to tell you about the Top 5 Best Keyword Research Techniques for SEO.
The first and most important step in every SEO campaign is to find the most powerful keywords for a website. If you miss something on that front, then the rest of the efforts will not be fruitful.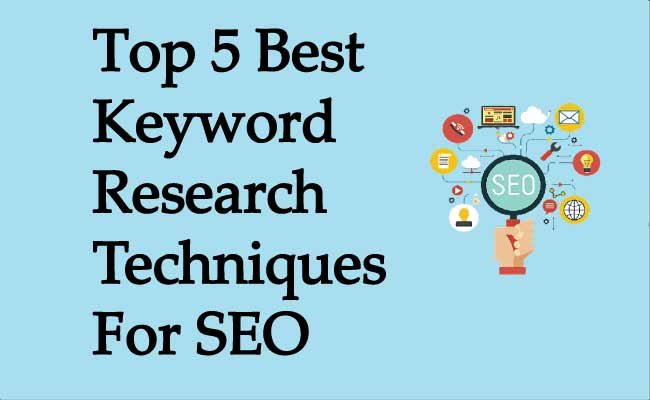 Effective keyword research involves researching and finding the most suitable keywords that bring maximum traffic to your website.
You need to determine the most influential keywords used by your potential customers while searching for services provided by you.
Mentioned below are the Top 5 Best Keyword Research Techniques for SEO.
1. Apply Your Brain:
There are many keyword research tools available for keyword research. It would be very stupid of you to completely rely on these tools for searching keywords relevant to your website.
The keyword tools are good but none of them is 100% perfect. You need to apply your own mind while using these tools. Brainstorming will be a good option at this point. Your mind may come up with some really great terms that can divert the right traffic to your website.
2. Include The Name Of the Products:
Most of online customers search for what they are looking for by using the name of a specific brand. A person looking for shoes might search for woodland shoes, Reebok shoes, etc which makes it essential to target keywords using the name of the products.
These keywords are much more likely to bring traffic than other generic keywords that have large competition. Most of the keyword research tools are not able to pinpoint this and therefore you must never trust them completely. You should also try to use your own brain while using these tools.
3. Researching Anchor Links:
Good keywords must be used as anchor links. However, this does not mean that you can fill or squeeze these keywords into your content. The keywords should appear normally in the content.
Google and other major search engines greatly favor such methodologies. Your anchor link should be like a phrase that should convey something meaningful.
Keyword Spying Tools.
There are various tools available that will help you in determining the SEO practices followed by your competitors. See what keywords they are targeting and choose the most relevant keywords for yourself.
Apart from Spying on the Keywords, you can also find out their anchor links, linking websites, and other information. Try the strategy if you feel that it is effective. A little extra effort from your end will soon rank you higher than your competitors in search engine results.
General Psychology Of An Online Buyer.
It is very important that you understand the general psychology of an online buyer. Not many are aware that people buy stuff when they get emotionally attracted to your products or services.
Later, they justify their decision of buying it by applying logic. You can always sell it if you can reach the person willing to pay for it.
For example, people going through a hard time would search by using words such as quick, fast, immediate, get now, etc before whatever they are looking for. Understanding the psychology of your potential customers is always beneficial.
Ultimately, it all depends on your capabilities to understand things and apply them in the most beneficial way. It is also considered best to include these keywords in your website during the web development phase of the website.
Your web development service provider would not charge anything extra for including these keywords while developing your website.
Final Words.
So, Mates, I hope you will enjoy our article Top 5 Best Keyword Research Techniques For SEO. In the end, I hope that the above Keyword research tips and techniques will help you to find the best keywords for your website.